Holy cow how is it I haven't noticed the the
SHIMANO STRADIC CI4 MICROLINE SPINNING REEL STCI41000FML
before today? If you aren't familiar with the Shimano CI14 series of spinning reels they are moderately priced with features and quality that compete with with spinning reels costing  $100 or more over the CI4.This spinning reel combined with a
G.LOOMIS TROUT SERIES SPINNING ROD
will be the ultimate trout and panfish spinning outfit. It's interesting to note while it's no secret SHIMANO owns G.LOOMIS it's unusual too see the manufacture specify the rods within the reel description. It's the right spinning rod choice regardless for this reel.
I need a new ultralight spinning outfit to keep behind the seat of my pickup. I think I will get the G.LOOMIS TSR621 which is 5'2″ long and I will mate it with the Stradic CI4 Microline. Hopefully I will be able to purchase this combination by the end of May 2011. Stay tuned
SHIMANO STRADIC CI4 MICROLINE SPINNING REEL STCI41000FML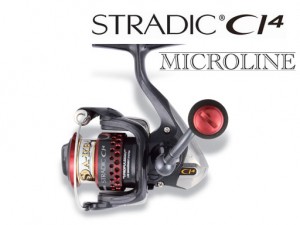 ULTRALIGHT SPINNING ROD and REEL
This reel was built as part of our technical fishing system for fishing Light Line specifically light PowerPro. We designed this reel to fish 5lb and lighter PowerPro and put a new drag system in it so that you can fight a fish without concern when fishing lighter lines. Like all Stradic CI4 reels this reel comes with the Propulsion line management system for greater casting distance and is also packed with Shimano's Paladin Gearing for super smooth retrieving. Strap this reel on an ultra light rod, preferably the G-Loomis Trout and Panfish Series loaded with PowerPro, and you will have the ultimate Light line System.
Specialized for use with new PowerPro Microlines. Spool optimized to hold 150 yards of 4# PowerPro Microline
Ultra-lightweight CI4 Frame, Sideplate and Rotor Construction
Paladin Gear Durability Enhancement
Propulsion Line Management System: Propulsion Spool Lip, SR One-Piece Bail Wire, Power Roller III, Redesigned Bail Trip, S-Arm Cam
Aero Wrap II Oscillation
SR-Concept: SR 3D Gear, SR Handle, SR One-Piece Bail Wire
Aluminum Spool
S-Concept: S-Rotor, S-Guard, S-Arm Cam
Machined Aluminum Handle
Direct Drive Mechanism (Thread In Handle Attachment)
Round EVA Handle Grip
WP Drag (Waterproof Drag)
Maintenance Port
Fluidrive II
Floating Shaft
Dyna-Balance
Super Stopper II
Repairable Clicker
Approved for use in Saltwater
Rated for use with Mono, Fluorocarbon and PowerPro lines
G.LOOMIS TROUT SERIES SPINNING ROD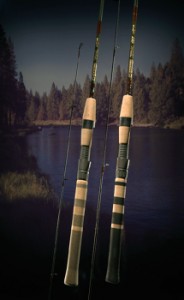 A specialized series of spinning rods designed specifically for trout fishing. Using our proprietary "fiber blend" and GLX levels of performance, our goal is to provide anglers with a "sky is the limit" approach to the fishery. Originally made in 2-piece configurations for ease in transportability, a new – for 2010 – selection of 1-piece rods has been added for those anglers that want the ultimate in light weight and performance. Effective for lake or stream fishing, these rods are made with one objective in mind… to help serious trout anglers become more successful and enjoy their time on the water with the lightest, most sensitive rods available. Four models are available in GLX… two 1-piece and two 2-piece rods. The entire series features fast tips for the ultimate in control, whether your pitching a spinner, a marabou jig or drifting single eggs on your favorite creek . The "fiber blend" models feature a combination of regular cork and composite cork for a new, unique looking rear grip with up-locking reel seats and Fuji, single-foot Alconite guides. The GLX models feature Recoil guides, cork & foam grips with up-locking reel seat. To quote Field & Stream Magazine rod testers, during their annual "Best of the Best Awards" field reviews in 2008, they said, "These rods are like fishing with a feather!" Imagine what the new 1-piece rods feel like… they're even lighter! Varying in power from ultra-light to light, rated from 1-pound test line up to 8-pound, they are surprisingly strong. You'll want to take one these rods along for all your fishing adventures. How big a fish can you catch on one of these rods? You might be surprised! The sky is the limit!"